Introduction
Hot Chicken Takover is a community restaurant based in Columbus, Ohio. Located on the second floor of the historic North Market, as well as operating an award winning food truck, Hot Chicken Takeover provides fair chance employment to men and women in need of supportive employment. The majority of its employees have been affected by the criminal justice system, with 60-70% having been incarcerated. Founder Joe DeLoss shares with REDF his approach to employee recruitment and retention, and shares some best practices and lessons learned along the way.
Recruitment Model
Hot Chicken Takeover primarily recruits through three methods:
Partnerships with social service organizations
Employee referrals
Public posting (craigslist, idealist etc.)
Since opening in April 2014, Hot Chicken Takeover has retained 50% of all total hires, tending to find that referrals from current or past employees are the most successful. This retention rate exceeds the industry average when compared to others in the fast food and quick services restaurant industry. Hot Chicken Takeover also recognizes that not all turnover is a negative outcome; some of their workforce will leave to pursue career advancement or other opportunities. Accordingly, they are starting to break-out retention rates to look at positive versus negative attrition. As a fair chance employer, they are often the first entry back into the workforce, but want their employees to pursue opportunities to advance their careers, such as those leaving to pursue training or credential programs or higher skilled roles within the restaurant industry.
"Informed Benefits"
Hot Chicken Takeover developed what they call "informed benefits" by listening to their employees and identifying what barriers were preventing them being successful within the workplace. According to Joe, "it boils down to really knowing what our staff need in order to be successful in our job." They have continued to refine their benefits based on observing what their employees were most utilizing and what continues to make sense for them to provide as an employer. Over time, they have evolved their benefits packages as part of an iterative process in response their employees' needs. They've landed on three buckets of benefits that they saw their staff utilizing the most: personal stability, financial stability, and professional development.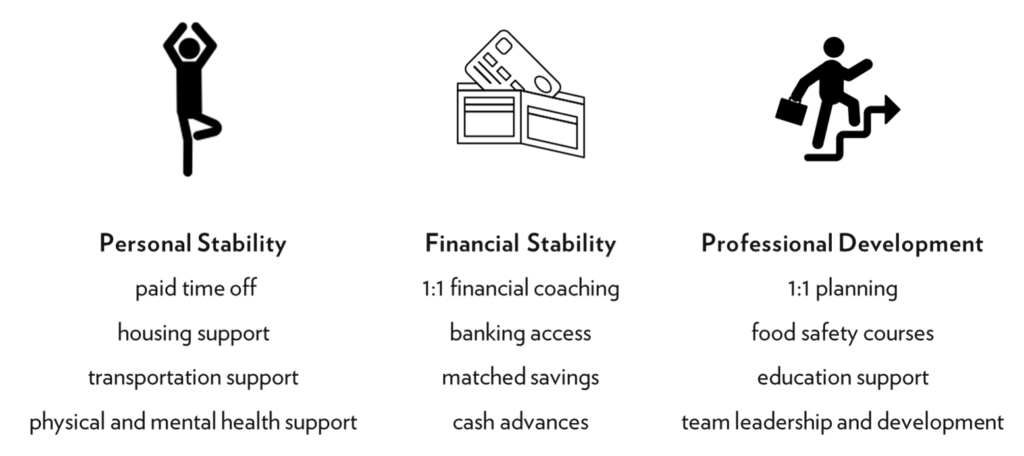 The funding for these benefits has been an iterative process as well. When they started, Hot Chicken Takeover funded everything out of the bottom line as an expense of the business. Core managers were providing much of the direct support and benefit provisions to staff. For a time, they aggregated the gratuity in the restaurant, while messaging it differently to customers, as a way to fund the benefits. However, the restaurant is now back to funding the investments in these benefits out of the bottom line. Joe estimates that these cost $1500-2000 per job slot, per year.
Additionally, they now have a staff benefits provider who also acts as a HR coordinator. This role does everything from onboarding to increasing utilization of benefits among employees. Hot Chicken Takeover deliberately made the decision to aggregate HR and benefits in this way. According to Joe, "we find that the culture associated with earning benefits is really impactful and different than the traditional charitable model that most of our staff has been engaged with. So we've changed the language internally around 'earned benefits' as opposed to 'assistance' or 'charitable' connotations."
Retention Service: Matched Savings
Hot Chicken Takeover's employees take advantage of financial benefits the most. One of these, the matched savings program, is their take on a 401k or more traditional matched-savings programs. Hot Chicken Takover matches savings for major milestones for a team member's growth: transportation, education, housing, and more. These matches are aligned with financial literacy participation and occur in a match of up to $700 a year per team member currently. They provide these matches with direct payment to the vendor. For every $2 an employee saves, they contribute a $1 (up to $700).
Retention Service: Cash Advance
Hot Chicken Takeover realized that most financial service providers that engaged with their workforce were predatory and exploitative, but also fulfilled a market need that many of their employees used. In response, they began providing their own in-house alternative to exploitative payday loans. Through this benefit, staff get access to 2 payday advances throughout the course of the year, equivalent to 50% of the employee's average paycheck. The loan is 0% interest and is paid back over 4 pay periods. To date, they have seen over 95% payback rate for these loans. Encouragingly, the utilization of this benefit has declined recently. According to Joe, "as we've increased wages as our business has grown, we've seen a decline in the need for cash advances, which is a positive indicator that we're getting closer and closer to that living wage marker we aspire to."
Retention Service: Housing
As with any iterative process, not every venture is a success. In this instance, Hot Chicken Takeover was given the opportunity to provide affordable, quality housing to their employees in a neighborhood not far from their core job site – in a building they called the "Hot Chicken Coop." However, it did not go as well as planned. The first issue was that there was a limited supply of housing and a high demand among their employees. From the onset, this created an unfair internal rub among staff because some people got the housing, and some did not.
The second issue arose when one of the people who received housing at the Hot Chicken Coop became somebody who was not eligible for employment anymore with Hot Chicken Takeover. "He wasn't demonstrating our values and so we were presented with a choice internally as the leadership team that not only were we going to terminate someone's employment, but also be terminating their housing" says Joe, "which is a really rough position to be in as a people-centered human and company." As a result, they've discontinued this benefit and are back to making qualified referrals to landlords and real estate operators they have confidence in.