What is REDFworkshop?
Welcome to REDFworkshop, the ultimate hub for Employment Social Enterprises (ESEs) seeking to build, grow, and sustain impactful organizations! Our platform is designed to equip you with the knowledge, tools, and resources needed to drive positive change and create lasting transformative impact in the ESE field.
We are 100% committed to supporting you in all phases of your journey, whether you are in start-up mode, a seasoned business, and everything in between. Our platform isn't just about providing information; it's also about us learning from the ESE field. Together, we're building an economy that works. For everyone!
Achieving Greater Impact Starts Here
We understand the unique challenges and opportunities that ESEs face, and our goal is to provide you with an ever-evolving platform that serves as a virtual tool box for all of your capacity-building needs. We've used that concept to organize this platform to make it as easy as possible to find the right "tools" in these key areas: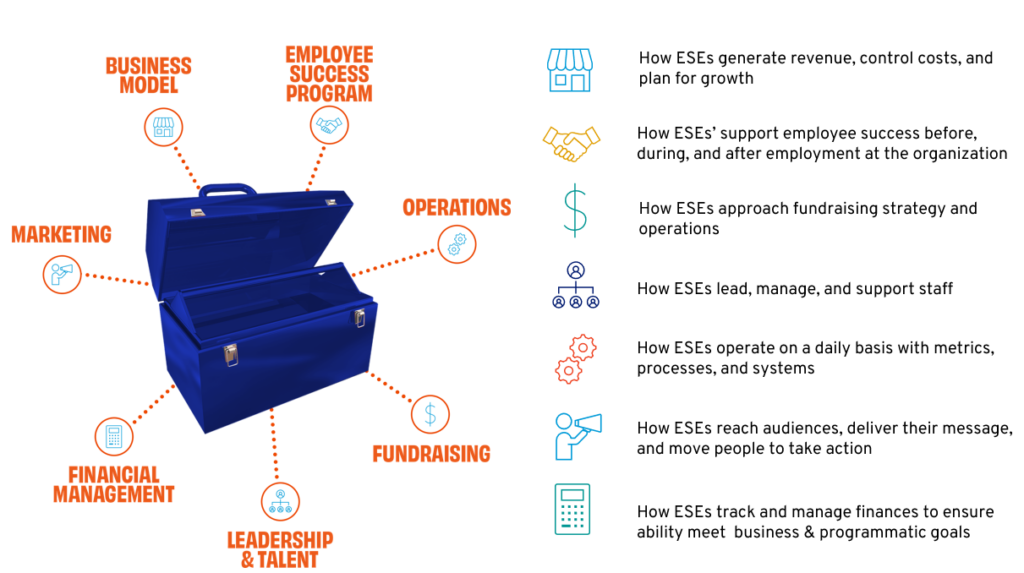 Throughout the platform you will find:
1. Expert Topic Overviews
We've collected best practices and foundational knowledge from REDF and key consultant experts and created overviews on more than 60 different sub topics! Overviews are the perfect place to start if you want to learn more about a key activity in running an ESE or if you are brushing up on your skills. Overviews feature a variety of components such best practices, quick self-assessments, concepts in action, links to in-platform deep dives and a tools/templates, as well as additional outside resources. All in one place to help you really dig into each topic.
2. Deep Dives
Delve into a wide range of topics crucial for ESE growth and sustainability. Our in-depth explorations provide you with the insights and expertise needed to make informed decisions and drive meaningful change within your organization. This also includes ESE case studies! These real-world deep dives offer valuable lessons, inspiring stories, and practical strategies that you can adapt to your own journey.
3. Actionable Resources
Gain access to a treasure trove of downloadable tools, and templates, that you can implement directly into your operations. Our actionable resources are designed to streamline processes, enhance efficiency, and optimize your impact.
Is REDFworkshop for me?
Regardless of where you are on your ESE journey, REDFworkshop is the place for you! Our platform is open and accessible to all, ensuring that every ESE and practitioner can reach their organizational goals. With world-class and actionable content at your fingertips, you have the power to make real-time changes that propel your ESE forward.
About REDF
REDF invests in businesses that reveal and reinforce the talent of people breaking through barriers to employment. Despite the drive to succeed, millions of Americans remain sidelined from access and opportunity. We work to ensure that we no longer miss out on this untapped talent by investing in and driving demand for employment social enterprises. Because when these businesses succeed, doors are opened to stability, economic mobility, and possibility.
When it was founded in 1997, REDF supported 14 businesses across the San Francisco Bay Area. 25 years later, REDF is a national organization and leader in the employment social enterprise field that has provided capital, capacity, and community to over 280 enterprises across 38 states and DC. Together, these businesses have generated over $2 billion in revenue reinvested in their employees and employed over 100,000 people.
Are you an employment social enterprise and want to learn more about REDF programs? Then we encourage you to fill out our Program Interest Form!