What is an Employee Success Program?
Ultimately, an employment social enterprise is an organization that 1) derives some meaningful portion of its total budget from the sale of goods and services, and 2) purposefully hires and supports a specific population of employees as part of its mission. The Business Planning section covers the first element in depth, while the Employee Success Program section covers the second.
An employee success program is an employment social enterprise (ESE) service to support an ESE participant worker's success while working at an ESE, as well as if or when they move on to the next job. An employee success program is a structured set of activities and services through which ESEs address the barriers to employment faced by their participant workers, supporting participant workers to reach their goals.
An employee success program is meant to support participants workers as they secure, succeed, and advance in employment. One can consider an employee success program an enhanced version of an employee assistance program (EAP) typically offered in traditional businesses.
The Employee Success Program section explores how to 1) design your employee success program and understand your impact, 2) implement key aspects of the employee success program, including recruitment, onboarding, wraparound services and training, and job placement / retention, and 3) support your employee success program through developing key systems/processes, partnerships, and culture.
Why is it important?
A well-intentioned and -structured employee success program offers an opportunity for individuals who have been out of work for a long period of time to have a safe supportive environment that is also a real work experience.
An employee success program can help participant workers become "job ready" for work in traditional work settings by addressing barriers to employment.

For example, independent research showed that after working at an ESE, participant workers living in stable housing increased from 15 to 53 percent.

Participant workers also benefit by staying employed longer.

Research also shows that employment after working at an ESE increased from 18% (pre-ESE employment) to 51 percent (post-ESE employment) for participant workers one year after starting at an ESE.

Providing these services can also positively impact the business side of an ESE. A well-structured employee success program can train up a new workforce faster and improve turnover.
Best practices
The overview pages in REDF Workshop go into detailed best practices for specific components of your Employee Success Program (orientation & onboarding, wraparound services, job training, etc.).
In this section, we go into some general high-level best practices as you design your Employee Success Program:
Get alignment across your ESE on what you hope to achieve for your participant workers

Developing a theory of change and logic model are helpful tools to build alignment across all positions within your ESE. The more aligned you are on what your ESE hopes to achieve, the easier it will be to design your employee success program.

Consider the three components of an Employee Success Program

An employee success program is made up of its program structures, wraparound services, and job skills.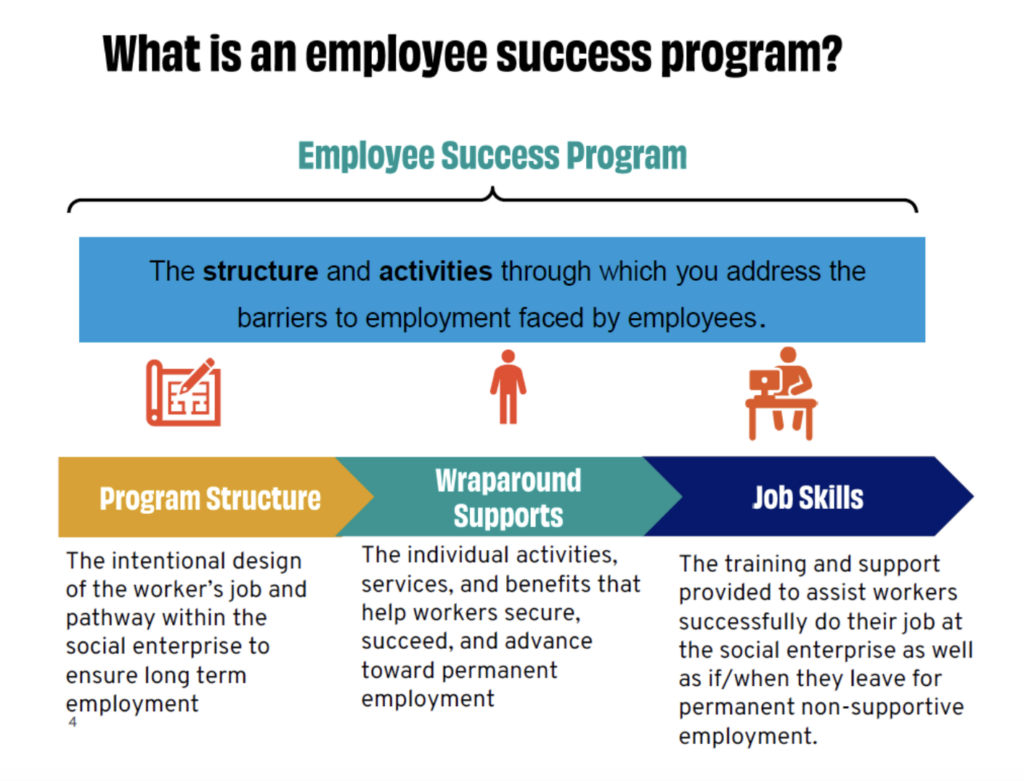 As you design your employee success program, consider how you are addressing each of these components. Here is an example of each:

Program structure – ESE X learns that their working hours are not accessible to their focus population, so they shift their working schedule.
Wraparound services – ESE X learns that most of their focus population is homeless or facing unstable housing, so they hire a case manager to help match participant workers to housing resources.
Job Skills – ESE X collaborates with its participant workers to develop soft skills such as showing up on time, communication skills, and teamwork.
Consider when to provide different services

Effective employee success programming can start before the employment experience and continues into the participant worker's employment (and sometimes beyond).
Employee success services offered before ESE employment help build a foundation to ensure participant workers have what they need to engage in in their job (e.g., housing or transportation).

Note: These services do NOT end at the time of ESE employment. They tend to continuously be offered throughout their ESE experience.

Services offered during the social enterprise employment focus on supporting participant workers to become "job ready" and prepared to transition into the mainstream workforce.
Services offered post social enterprise employment usually focus on supporting individuals to retain their employment, obtain a promotion, seek a raise, and achieve continued success in the workforce.

Tailor your employee success services and activities to your focus population and organizational mission

As you decide what to offer and when, tailor your employee success program to the needs and goals of your focus population and your organizational mission. Consider the barriers and goals of your participant workers to understand what supports will best meet participant workers where they are.
Use design thinking strategies to better understand your focus population.
Use data from your intake, participant worker feedback, and outcome metrics to regularly assess the success of your participant workers and how you may want to evolve your employee success program (e.g., "I know from my application form that X% of participant workers are facing homelessness").

Follow an iterative design process

As you design your employee success program from scratch or evolve your current one, following the design process below can help ensure you are on the right track.