What is a website?
Your social enterprise's website is an integral part of running your business and a key marketing asset. Because you operate a double-bottom-line business, your website should highlight both your business and your mission to differentiate you from competitors and reach the various audiences you need to support your work. It should clearly convey the information that each audience needs to know and serve as a representation of your overall brand. 
Why is your website important?
Your website should be an easy, first step for your audiences to learn about your business and mission. And they will turn to your website to do their research. In fact, 76% of consumers visit a business' website before making an in-person visit to their store.
The quality and ease of use of your website can also contribute to customers' perceptions of your business – it is vital to building trust and credibility.
Self Assessment Checklist
My social enterprise's website…
Follows my brand guidelines, including fonts, colors, image guidelines, tone, and messaging. It accurately conveys my brand's personality
Is easy to navigate, and the information is presented with clear and compelling design
Is mobile-optimized. 
Contains information about my products and/or services and how they can be purchased
Incorporates the mission and impact of my business throughout
Offers other ways to connect, contact us, or get involved
Follows the best practices of search engine optimization (SEO)
Your User Experience: Navigation & Design
You've likely spent a lot of time developing great content for your website, so don't let it go to waste. Ensure that when your visitors arrive, they are able to easily find what they need and that the information is presented in a clear and compelling design.
Navigation and Information Architecture
Your website's information architecture – or how the content is organized – is key to its success. Your audiences will approach your website differently than the way you or members of your team who are intimately familiar with its content will. Think about what your audience wants and needs to know, and then make that information easy to find with straightforward and streamlined menus and clearly labeled page names. Don't make users click through multiple links to find key pages or be left wondering which page contains the information they need. You risk leaving them confused or frustrated, and possibly leaving your site without finding what they need
User-Friendly Design and Copywriting
Beyond the organization of content on your website, the page design can ensure content is easy to navigate and presents a professional appearance.
Some design and copywriting best practices to improve your users' experience include:
Be Consistent. Have standard page layouts so that visitors know where they can expect to find information on each page.
Write Short, Skimmable Copy. Websites should include shortened copy overall, but should also use headings and shorter paragraphs to increase readability. Consider also leveraging lists, quote callouts, and other formatting options to break up text. (See Additional Reading & Resources for guidelines on writing for the web.)
Don't Bury the Lede. Include the most important information up front and not buried within a paragraph of text.
Use Color Wisely. Embrace white space. Ensure that the colors used, especially for text, are legible.
Make Action Easy. Ensure hyperlinks are evident to a user and that you're linking more than one short word so that mobile users can easily click through. Also, highlight your key calls to action (like contact or donate options) with buttons that are easy to find instead of buried at the bottom of a page.
Looking for inspiration? See examples of strong design, content, and layout from your peers in the "What Content to Include" section below.
Mobile-Optimization: A Must
Over half of all web browsing today is done on a mobile device. Not having a mobile-optimized site risks hurting your business' credibility and losing your audience members.
A mobile-optimized website is one where the pages adjust to fit the device's screen size – so your users can see all of the information on the page, easily click buttons and menu items, and utilize the site's full functionality, no matter what device they're using.
This will likely be included in any new website created, but it's good to confirm with your web developer that they will be including and testing these features. If your existing website is not mobile-optimized, consider hiring a web developer to implement the change across all pages of your website.
What Content to Include
Your Business: Product & Services
Your customers are one of your key audiences. It should be clear from your website what products or services you offer, for whom, and at what price. Your website should also clearly communicate how a visitor can purchase your products or inquire about your services.
Other things about your business to consider adding:
Description of your products and/or services
Your value proposition (what makes your product, service, or business unique compared to your competitors)
Customer reviews and endorsements
Product comparisons or use cases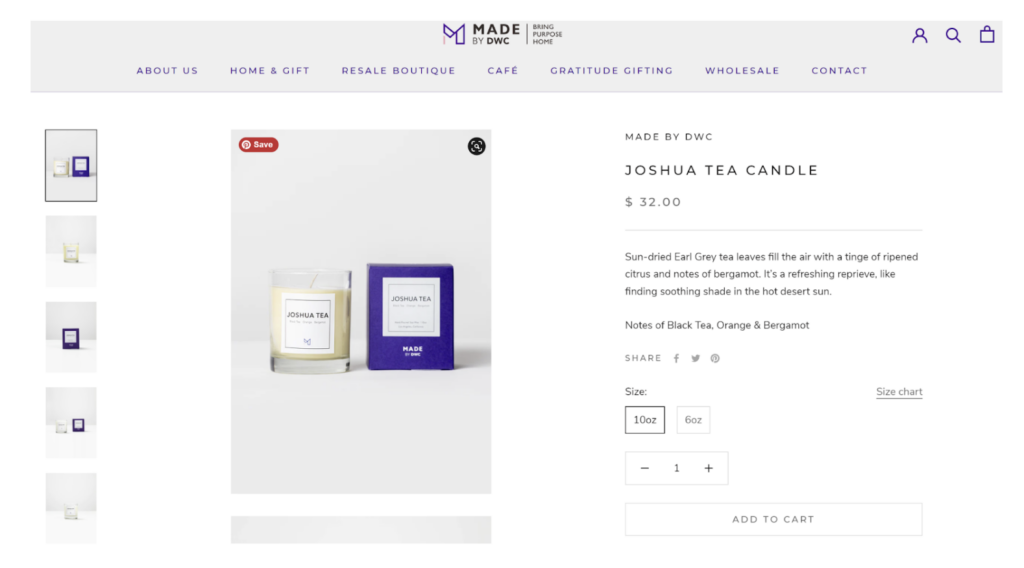 Your Mission
Over 80% of consumers prefer to buy from brands that stand for a greater mission or purpose. As a social enterprise, your mission sets you apart from your competitors and is part of your DNA – so it is important to make sure that it is incorporated throughout your website. This can and should go beyond simply including your mission statement on your About page (but that is a good place to start!). The "why" behind your work likely also appears in your core messages. Utilize those in your page headlines and throughout your body copy. Tell your website visitors who you employ and how you support your employees' success. Showcase the impact of your work through your imagery and on-page storytelling opportunities.
Other things about your mission to consider adding:
Stories, images, and videos that showcase your impact
List of partners and/or supporters
Eligibility requirements for participants and information on how to join (if your website serves as a participant recruitment tool)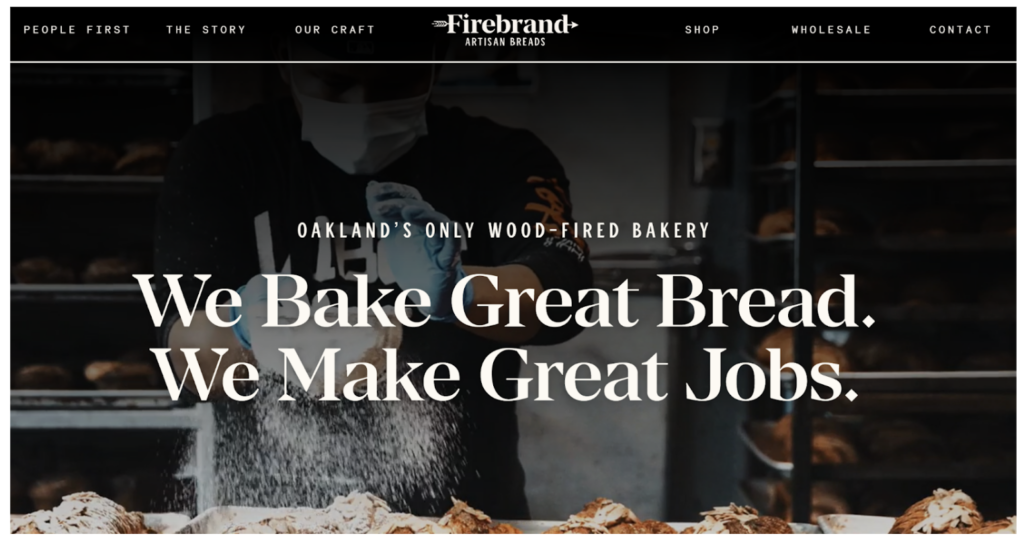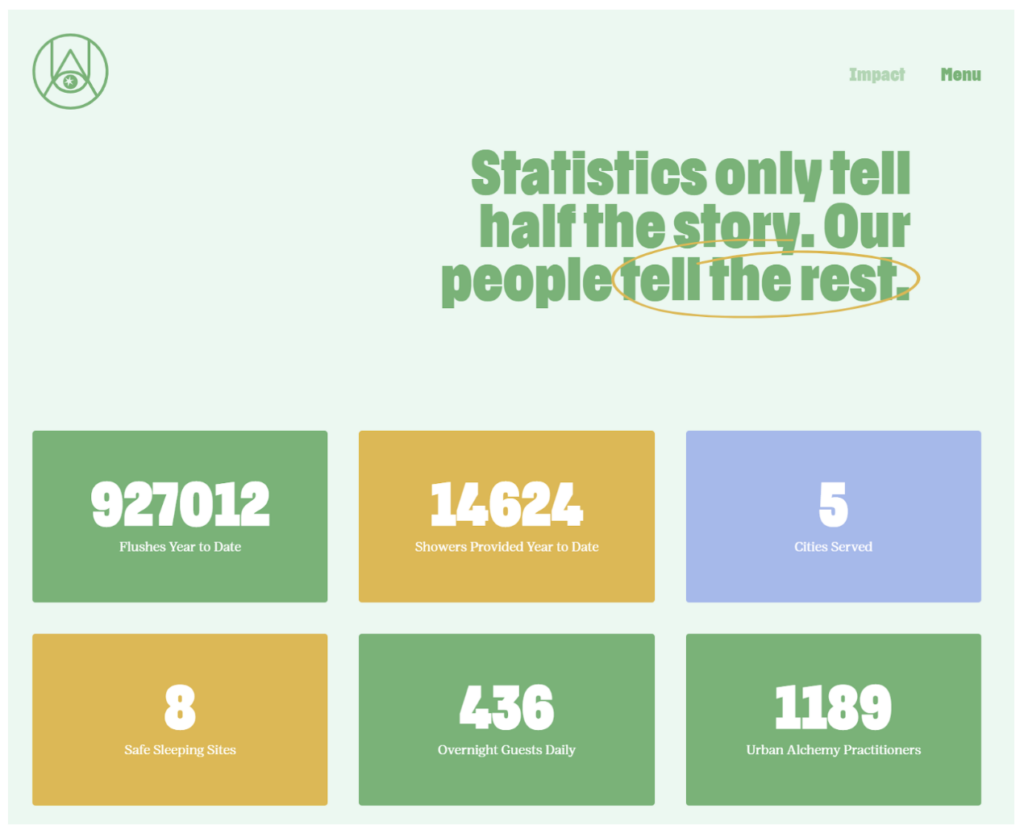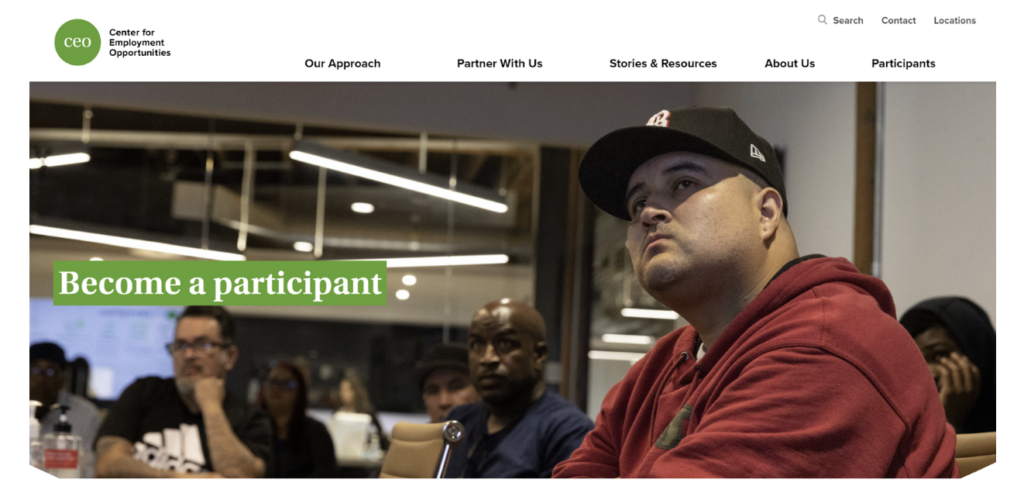 Calls To Action
Your website isn't a passive marketing tool. You have your audience's attention, so ask yourself—what do you want them to do next? This likely includes several actions, depending on the audience, and could include purchasing a product, visiting your store, contacting you for a quote, or donating. Make your asks clear, and make taking action easy to do via your website.
Calls to action to consider adding include:
Social media links
Email list / newsletter signup
Contact form
Donation form
Write a review or testimonial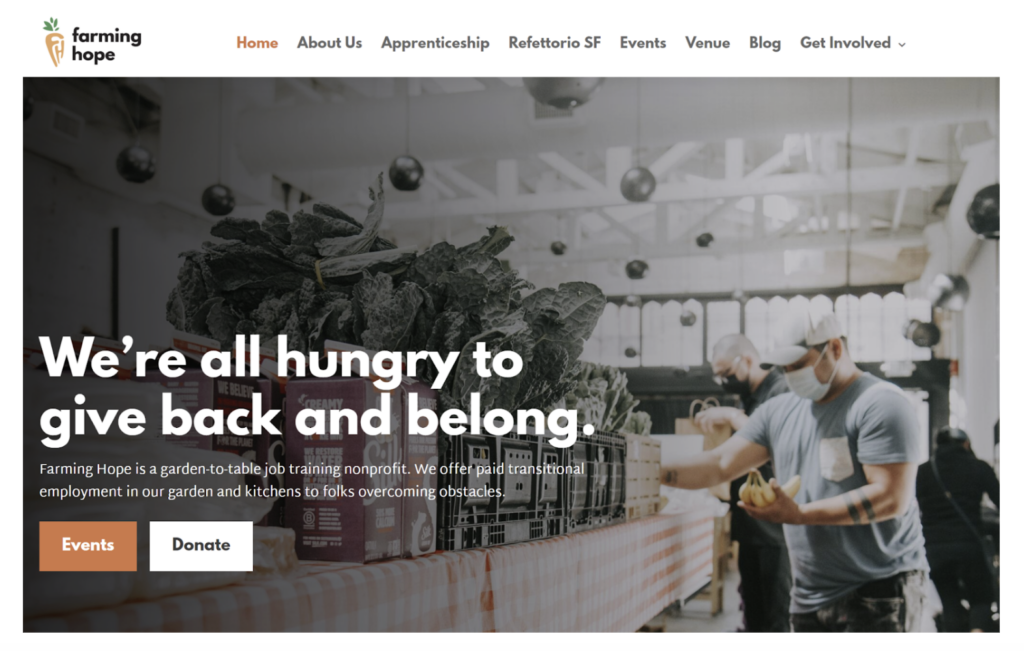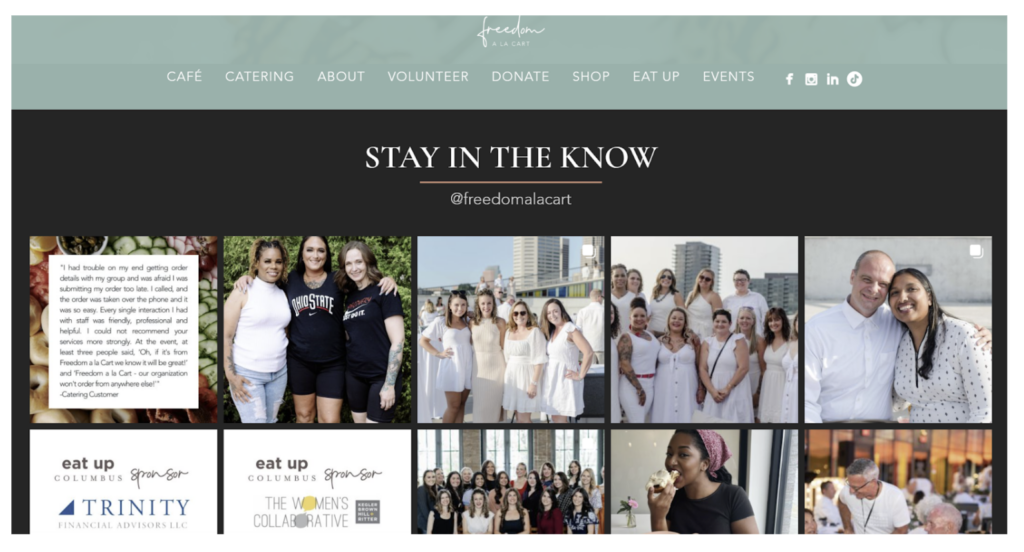 Search Engine Optimization: Best Practices to Get Started
While some people will seek out your website directly, you'll also want to ensure that users find you when looking for businesses offering your products or services and/or serving your mission. Search engine optimization (SEO) is the practice of increasing your website's visibility in search results on sites like Google, without paying for ad placements. If you sell coffee in downtown Cleveland, you want to ensure that someone googling "coffee downtown Cleveland" is finding your business.
There are a variety of ways that Google and other search engines determine the placement of search results – and there's no single, magic algorithm to follow. But there are some best practices to incorporate into your website to improve your SEO. As a bonus, each of these steps also contribute to having a high-quality, user-friendly site.
Technical Set-Up. Before you even get to content, there are a few things that search engines are looking at to determine the quality of your site and your search results ranking. These include:

Crawl access: Confirm with your web developer that your website is set up to allow search engines to "crawl" (or look through) all the pages on your site. If the search engine can't find a page on your site, it won't display it in search results.
Load speed: The time it takes for a user to load and read your page is one way Google determines the quality of a site. If you notice the pages on your site are taking awhile to load, reach out to your web developer to explore possible solutions.
Mobile optimization: Like load speed, mobile optimization will help boost the quality of your website in the eyes of search engines.
Include Relevant Content. You want people to find your website for the right reasons. So think about what your target audience(s) would be searching for online that might lead them to their business. Once you have those words in mind, ensure you're using them throughout your website – in page titles, blog titles, and throughout body copy.
Need some help? Ask your customers, participants, or supporters what terms they might put into a search engine to find you. You might be surprised by the answers, and it helps to hear directly from your stakeholders.
Getting it Done
Resources to Measure & Monitor Your Website In-House
Google Analytics: Ask your web developer if Google Analytics is the right fit for your website. If you have access to this platform, it will provide you powerful, free insights into what's happening on your website. You'll find information including your monthly visitors, how long they spend on your site, how many pages they visit and how they move through pages, and how they arrive to your site – among many other things! Reviewing your analytics throughout the year will help you gauge whether your website is attracting, engaging, and converting visitors.
Other Resources to Consider
Given how vital your website is to your business' success, you should engage a professional web developer to assist with any build-out or ongoing maintenance of your site. This will help ensure you are meeting the technical requirements of a high-quality site, including any necessary security measures if you're engaging in e-commerce, and conveying the professional look and feel you seek. Depending on your needs and budget, you can choose to hire an agency or an independent developer for these projects.
Additional Reading & Resources
About Christiano Comms
Sarah Christiano is an experienced marketing and communications professional committed to using the power of storytelling for positive social change. From digital marketing strategy and execution to content creation and copywriting, Sarah partners with her clients to propel their missions forward through strong and strategic communications.